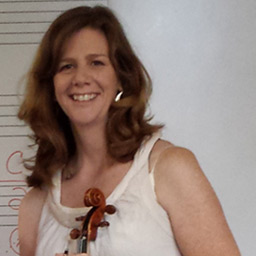 Laura King
Suzuki Strings, Viola, Violin
Laura King is a Registered Suzuki Violin Teacher in volumes one through three. Her studies include two years under Moshe Neuman, who studied with Dr. Shinichi Suzuki in Japan, as well as studies at the Hartt School of Music-University of Hartford.
Laura has not only taken her own four children through the method but has taught countless other children and adults over the past Twenty + years. Her approach includes traditional note reading as soon as the student is stable in posture and tone. King emphasizes the benefits of working with a common memorized repertoire specific to the Suzuki Method, which allows students to play as a group both privately and publicly, fostering growth and ability. Group rehearsals and public performances such as "Spooky Suzuki" at Webster at Rye and other public holiday events and gallery openings also create community and support for students and families.
Nothing is more satisfying to King, than to see the seeds of childhood music education grow and blossom in her students' lives as they move through college, careers, and parenting and begin their own children on a path to musical love and enjoyment.